Waterproof Basement Floor Matting Installed Near Newburgh, Owensboro, Evansville
Protect your Basement Carpet from Mold and Moisture in Newburgh, Owensboro, Evansville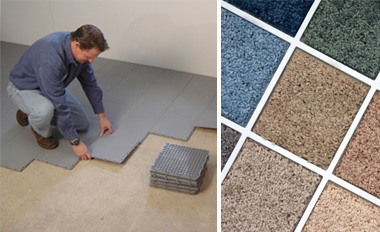 Custom Basement Carpeting
It's your basement and you want to put in your own custom carpeting. No problem! We offer our waterproof ThermalDry® Floor Matting sub-flooring for that special installation.
The multiple outcomes you can achieve from our number of flooring products can decorate your basement in a wide variety of styles. But perhaps we don't offer the exact design you desire or you want your own custom carpeting laid down and still want the protection of our professional products. This can be done!
At Healthy Spaces, we can provide you with ThermalDry® Basement Floor Matting- a waterproof, sub floor product designed specifically for basement finishing.
For a free basement remodeling quote, call or e-mail us today!
ThermalDry® Basement Sub-floor Matting
The ThermalDry® Matts have an interlocking system that installs without the need for glues or adhesives. It is long-lasting and durable enough to outlast the carpet above it.
For More Information Contact Us Today For A Free Quote »
Prevent Mold Growth In Your Basement With ThermalDry® Flooring